I've made another vastly different-looking set using the Basic Kate and Jane Variations patterns you can find in my shop.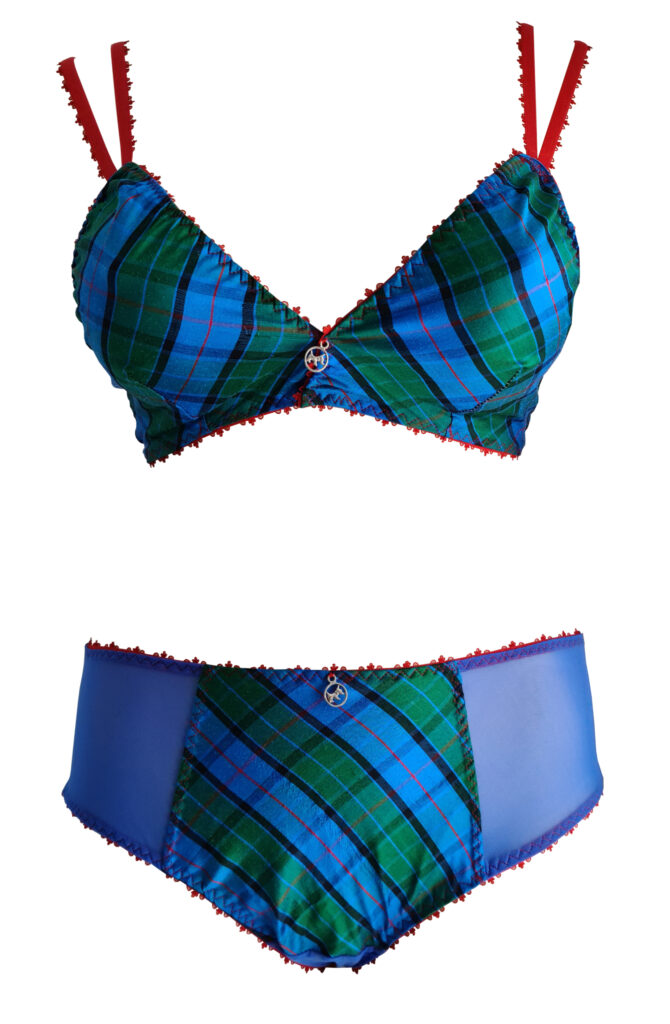 Some things I did differently with this set, which I am calling, "Scotland the Brave", ya, I know, hokey. Instead of using the upper cup pattern piece, I have used the Lower Cup and cut out the top fabric with it. This way the cup has a matching dart on the top and lower fabric. A dart will mean that the cup will be a little firmer and create more cleavage.
The plaid fabric is what amounts to a fat quarter of 100% silk (woven, not printed) dupioni. Pure silk on a plain weave is some of the strongest fibres known to humankind, when wet. To demonstrate these attributes I have the pleasure of letting Mr. Jacki Chan in his epic historical documentary: Shanghai Noon.
So cutting silk on the grain would make an inflexible container. The best option is to incorporate cutting the decorative elements on the bias. As I've shown in the Kate Basic Instructional Video, not only does cutting on the bias give way more stretch but can also mold to the bust in a more pleasing and wrinkle-free way.
In another article (which I haven't at this time written yet – I'll get to it… maybe…) I am trying to commit to a year of No New Clothing (ie not store-bought). That also applies to buying fabric too. This set is sourced from odds-n-sods from my stash. The remaining materials are some powder blue powermesh I had 1m, my basic sample length before I commit to buying 10m. I didn't have any matching elastic so I went for contrasting with red, which I have a veritable sh*tload. little Scotty dog charms – cause… Scotland…
Watch the following to get my tips on cutting on the bias.
And if you like Benny Hill chase scenes (obs, not the man himself), then you can watch me assemble the whole set sped up x 8.